Split Nigeria Into 5 Republics — Niger Delta Coalition Demands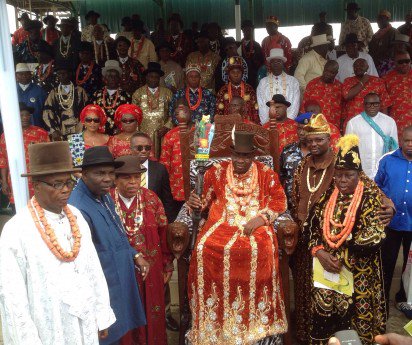 A coalition of self-determination group from Niger Delta, under the auspices of Reformed Egbesu Assembly [REF] has called for the split of Nigeria into five entities to be collectively known as the United Republics of Nigeria.
The Egbesu Assembly listed the affected republics as:
1. Arewa Islamic Republic 
2. Biafra Republic 
3. Niger Delta Republic 
4. Oduduwa Republic, and, 
5. Middle Belt Republic
Egbesu said that all the five republics will form the United Republics of Nigeria.
, who spoke 
Speaking on behalf of the group, REF General Officer Commanding, Tony Alagbakereowei said: 
"We reaffirm our collective resolve to actualise the Republic of the Niger Delta, RONDEL, which had been proclaimed in 1966 taking into cognisance the reality that there is nothing yet binding us as a people rather than the crude oil and gas in the Niger Delta. 
"We call on the British Prime Minister, President Donald Trump of the United States and the United Nations, UN, to conduct a referendum for the peaceful dissolution of the Nigerian states into Arewa Islamic Republic, Biafra Republic, Oduduwa Republic, Republic of the Niger Delta, RONDEL, and the Republic of the Middle Belt to be collectively known and addressed as the United Republics of Nigeria based on the principles of non-exodus and non-violence. 
"We strongly restate our commitment and dedication to this model as it is the irreducible minimum acceptable political requirement for the ethnic nationalities of the Niger Delta to remain in the Nigerian state. 
"We consider this as the best option to avoid the impending humanitarian crisis of a full-blown Nigeria civil war and armed revolution which will be foisted upon the African Continent and the world at large." 
The militants also argued that Niger Delta leaders were no longer promoting the interest of the region within the context of the current agitations across Nigeria. 
A related development, the Convener of Pan Niger Delta Forum, PANDEF, Chief Edwin Clark has cautioned against the proposed declaration of Republic of Niger Delta on October 1, 2017.
The proposed declaration is as a result of Federal Government's alleged apathy to the peace process in the region. 
--
Would you like to be receiving ALL Elombah.com news links 'On The Go' on WhatsApp?  If yes, please provide us your WhatsApp number via 

This email address is being protected from spambots. You need JavaScript enabled to view it.

 or inbox +2349050382526 and you are ready to go!
© Copyright 2017 www.elombah.com; unless otherwise indicated, all images are courtesy of Twitter; send eyewitness accounts/reports/articles to This email address is being protected from spambots. You need JavaScript enabled to view it.; follow us on twitter @Elombah; like our Facebook page: Elombah.com; join us on WhatsApp HERE
For advert placement call us on +447460770987, +2349050382526