Python Dance: Army provides emergency numbers [updated]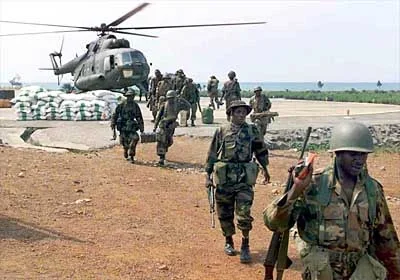 The general public is hereby requested to please call any of the following dedicated GSM phone numbers for any information or request for help during the ongoing Exercise PYTHON DANCE in the South East:
1. Headquarters 14 Brigade, Ohafia, Abia State- 07068688482.
2. Headquarters 302 Artillery Regiment, Awka, Anambra State- 07011115583.
3. Headquarters 24 Support Engineer Regiment, Abakaliki, Ebonyi State -09053974736.
4. Headquarters 82 Division Garrison, Enugu, Enugu State -08063282844.
5. Headquarters 34 Brigade, Owerri, Imo State- 08171609638 and 08065642870.
Colonel Sani Kukasheka Usman
Acting Director Army Public Relations
----------
Operation Python Dance: Do we need it? – By Eneh Victor Chigozie
I think operation Python Dance launched by the Nigerian army in south east is for the security of Ndigbo especially at this yuletide season.
I have not heard of the special force oppressing anyone or intimidating Ndigbo.
I do not have any issue with them if they do their job diligently.
If they keep all the trouble makers and the bad guys out of the street for a peaceful yuletide season and celebration, it is to our advantage.
I only hope that we will thank APC government after a peaceful, crime free yuletide season because I'm sure Anambra State governor, Willie Obiano will claim their glory.
He is good at claiming people's achievements.
Let's be at a look out. Report any suspicious movement to the security.
Also report any abuse of rights of our people by overzealous security officials.