Husband batters wife badly, rips open her face; police nonchalant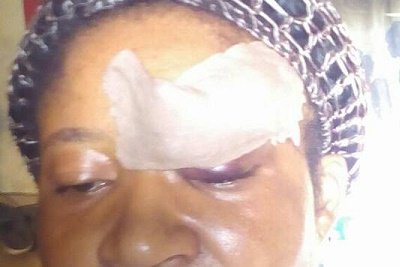 This morning a woman sent me an SOS, telling me it was a miracle that she survived the last beating from her husband, She showed me pictures of the bandaged face, which I share with you here.
The Lady's name is Maureen Nnoruka and the husband's name is Elochukwu Victor Nnoruka. They live in Lawanson, Surulere. The lady's pictures appear below.
I began to interview her. She is 38 and has been married for 16 years now. The entire marriage has been characterized by violence. 
For the past 10 years, she has been reporting the beatings to the police. 
But each time, the police will invite the man, rebuke him or warn him, and he goes back and beats her again and again, and each beating is worse than the previous one. 
What shocks you immediately is why the police have been so powerless and unable to protect this woman? 
Are they waiting until it becomes a murder case? These were the questions I asked the DPO today when I spoke with him.
At present this woman has run to her father's house in Gbagada. 
But she is concerned about her 5 children, whom she is not allowed to see since the past three days, the last beating.
I asked the woman what she wanted me to do. She doesn't really know. 
She wants me to beg her husband to be nice from now onwards. I refused flatly. It is not my work to beg anybody. 
It is my work to see that he law is obeyed. That is all. 
I told the woman that I would rather work to put her husband in jail and that that will be the only way he can get the message. 
If the police begged him for ten years and he refused to listen to them, why would he listen to Emeka Ugwuonye? 
The woman begged me that she didn't want him to go to jail because she would look like a bad woman and her daughters would be humiliated. 
I told her that was absolute nonsense. I asked her what would happen to her daughters if she died from these beatings? 
I also explained to her that by tolerating these beatings for 16 years in the presence of her daughters, she was doing great damage to her daughters.
This is because she is teaching them that it is okay for their own husbands to beat them. 
But by putting this man in jail, there will be a clear and bright line between right and wrong. 
And the world would see and the girls would learn never to be victims of domestic violence.
Of course, this woman does not want her husband to go to jail. Okay, we may not put him in jail. 
But I want to place his front foot at the gate of the prisons before we pull him back. So, the man will be prosecuted.
What I did next was to contact the DPO. The DPO confirmed everything the woman told me. I asked him what he was waiting for before charging the man to court. 
Anyway, to cut the story short, I obtained an assurance that the man would be arrested and charged to court soon for domestic violence.
Now to make sure he does not forget, I want us to send the following friendly and encouraging message by sms to the DPO:
"Dear DPO, we are the members of the Due Process Advocates (DPA). 
"Our Founder spoke with you earlier today in connection with the case of the man who has been beating his wife for 10 years without stop. 
"We now request you to enforce the law by charging this man to court. Domestic Violence is a crime and the police cannot be too soft on crimes like this".
Send the message to:
DPO - 08100069082
By Emeka Ugwuonye