Details

Category: SPORTS NEWS
Published on Tuesday, 25 October 2011 13:36
Written by elombah.com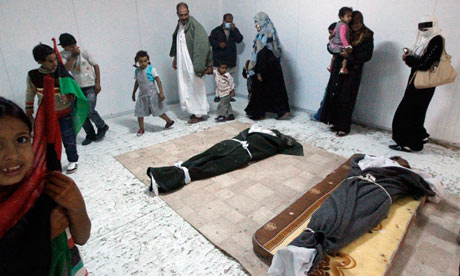 Libyans file past the bodies of Gaddafi and his son prior to their burial. Photograph: Thaier Al-Sudani/Reuters) Gaddafi sodomized: Video shows abuse frame by frame (GRAPHIC) [An analysis appears to confirm that a rebel fighter sodomized Gaddafi with a knife: See pictures of Ghadafi tortured and Sodomised below].
Libya's new government has confirmed that Muammar Gaddafi has finally been
 buried in secret in the desert after controversy about the grisly display of his decomposing corpse for nearly four days after his death. Gaddafi's burial alongside his son Mutassim brings to close controversy over public display of his body for nearly four days
Two members of the ruling National Transitional Council (NTC) were reportedly entrusted with the burial in an unknown location - chosen to avoid the risk of the grave becoming a shrine for supporters or, more likely, being desecrated by vengeful opponents. The two officials are understood to have been sworn not to divulge the location.
Gaddafi was buried alongside his son Mutassim and army commander Abu Bakr Younis after Muslim prayers were recited over the bodies by Gaddafi's personal cleric, Khaled Tantoush. The corpses were then removed from the compound in the coastal city of Misrata where they had been on public show in a meat refrigerator since last Thursday.
NTC spokesman Abdel Majid Mlegta told Reuters that the last rites were attended by two of Gaddafi's cousins, Mansour Dhao Ibrahim, once the commander of the People's Guard, and Ahmed Ibrahim. Both were captured with Gaddafi after Nato fighter jets attacked their convoy near Sirte, Gaddafi's home town.
Ibrahim Beitalmal, another spokesman, was quoted by AP as saying that the burial took place at 5am (4am BST). "The NTC officials were handed the body after the sheikh completed the early morning ceremony and are taking him somewhere very far away into the desert," Mlegta said.
Many ordinary Libyans do not appear to share western concern about the exact circumstances of Gaddafi's death or the propriety of leaving his body on public view, contrary to Muslim practices.
Pictures of his corpse continue to be published in Libyan newspapers and shown on TV. Freshly-painted graffiti on the streets of Tripoli - in Arabic and English - read: "Dictator Gaddafi sent a message to the Libyan people from hell, saying: 'I am staying here.' "
In a further disturbing development, images are circulating on the internet apparently showing Gaddafi being sodomised with a stick or metal rod while still alive. The footage was shot on a mobile phone and includes sounds of gunfire and shouts of "Allahu akbar."
On Monday the NTC leader, Mustafa Abdul-Jalil, promised an investigation into the exact circumstances of Gaddafi's death. Initial reports suggested he was killed in crossfire as his supporters clashed with rebel forces seizing control of Sirte, but it seems likely that he was captured alive and then killed deliberately.
An analysis of video obtained by GlobalPost from a rebel fighter who recorded the moment when Col. Muammar Gaddafi was first captured confirms that another rebel fighter, whose identity is unknown, sodomized the former leader as he was being dragged from the drainpipe where he had taken cover.
A frame by frame analysis of this exclusive GlobalPost video clearly shows the rebel trying to insert some kind of stick or knife into Gaddafi's rear end. 
GlobalPost correspondent Tracey Shelton said there is some question as to whether the instrument was a knife from the end of a gun, which Libyans call a Bicketti, or a utilitiy tool known as a Becker Knife and Tool, which is popularly known as a BKT.
This latest video discovery comes as international and human rights groups call for a formal investigation into how the former Libyan leader was killed. In video clips that have emerged of his capture, Gaddafi can be seen injured but alive. Later he is seen with what appears to be gunshot wounds to his head and chest. According to the Geneva Conventions, however, abuse of prisoners under any circumstance is not permissable.
Here is a frame by frame look at the attack. Below the frames is video decoding the cell phone footage of the capture. And, finally, at the bottom is the full video. You can see the attempt to sodomize Gaddafi at the 16 second mark.